Having Norwegian Forest Cats is a way of living, especially when you have them in the amount that we have (Michel 1967 and Marjolein 1968). You find them everywhere in our house; in their cat run, at the attic, in the bathroom and in our bed.
But as soon as you have them, you are addicted to them. Our son (2004) and daughter (2006) and our German Shepherds (2007 & 2010) are growing up with these lovely creatures.
In 1999 we started with having this beautiful breed. Not for showing or breeding, but just as pets. Now, a few years later, we are still in love with them. We go to shows on a regular base and sometimes we do have kittens.
Our goal is to breed healthy, strong, natural looking Wegies with a nice temper. We breed in all colors and occasionally we will have a litter.
Michel & Marjolein, Wijk bij Duurstede, the Netherlands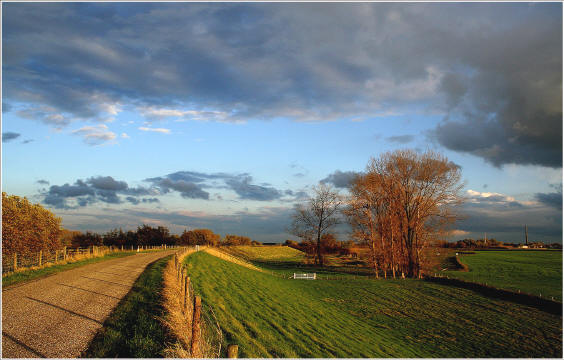 Wijk bij Duurstede - Riverland copyright © Ad van Breugel
More pictures of Ad van Breugel
Dorestad
= Wijk bij Duurstede
Dorestad emerged in the 7th century on a confluent of the rivers Rhine and its tributary Lek. Because of its geographical situation it became one of the leading emporia on the continent on a crossroads of international long distance trading routes from and to Northern Frisia, North Sea area, Scandinavia and France, the Rhineland and the Meuse valley. The river Scheldt could be reached via the Lek.
Dorestad ranks with other important emporia like Haithabu, Ribe, Birka, Kaupang and York. Its heydays were during the reign of Charlemagne (768-814). The trading place was occasionally Frisian or Frankish property or granted to Danish warlords. Large quantities of raw and exotic material (glass, stone, amber and ivory), pottery from the Rhineland and Frisian cloth were traded here.
Due to extensive excavations on the site a lot of information is available on the economy of Dorestad. New insights show that at least parts of the raw material, e.g. amber and Eifel tephrite, were worked on the site and traded from there. The wealth and goods in Dorestad certainly attracted the men from the North. Part of the emporium was set on fire during several raids between 834 AD and 863 AD. However, archaeological evidence of Vikings burning down the emporium at least three times is not available.
Due to the ever-changing course of the Rhine and the danger from Viking plundering, Dorestad declined and ceased to be an important trading place and even vanished from historical accounts after 863.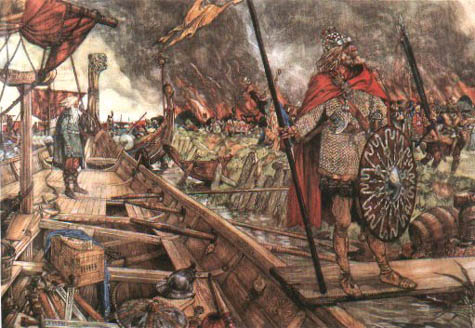 Old school print - Vikings at Dorestad